If you are looking to cover up that cold and gray concrete basement floor, you've got a lot of options at your disposal. One such option is laminate flooring. What we are going to try and do here is explain just what laminate flooring you can use on a concrete basement floor.
Laminate flooring comes in all kinds of shapes and sizes and a huge array of finishes. So it's only natural that you would take a look at this type of flooring to get the desired result you are looking for in your basement. From the solid wood look to a beautiful ceramic tile appeal, you can find a laminate that will work in all situations. Personally, I prefer the lighter wood shades as it tends to brighten up a basement. Darker shades will make your basement look and feel darker and smaller.
Most all laminate flooring is a type of floating floor. They are installed either using some sort of click and lock system or with an adhesive backing to lock them down into place. One type of laminate not to use down in a basement especially if you are going directly on a concrete basement floor is the adhesive kind. This will likely not give you the desired effect simply because they are kept in place by a glue. And glue's in basements, especially directly on a concrete floor, is not really recommended. Basement floors will seep because concrete is a pourous material. It let's water (and vapors) travel through it. So gluing a flooring material down to it is never a good answer.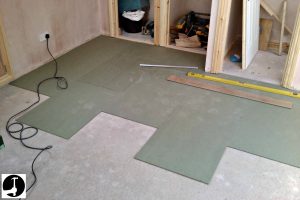 It's recommended that you use a laminate flooring with a click and lock system. These are easy to install and are made so that you can do it yourself. You will pay a bit more to have a professional come and install them. But if you've got a weekend to work away, it's definitely something that you can try on your own.
If you are going to install laminate flooring on a concrete basement floor, please use a premium underlayment with a moisture barrier for added protection. If at all possible, use a subfloor to lift the laminate off of the basement floor so that there is a vapor barrier between the flooring and the concrete. This will allow the concrete to continue to breath and keep the moisture directly off of the laminate planks. At a minimum, a 6 ml plastic underlayment should be put down first, although this will not let the vapors evaporate like a raised sub-floor.
One thing to keep in mind is that many manufacturers don't seal their laminates well enough on the back to prevent water damage. There are laminates specifically designed for sub-level installation, just make sure to check the ratings and you'll be good to go from there.
Know what type of room your basement is going to be and check the AC rating of the laminate flooring you are planning to use. AC ratings are as follows:
AC1 is suitable for lighter, more infrequent traffic, e.g. a bedroom.
AC2 is suitable for general residential use in living rooms and dining rooms.
AC3 can be applied to more varied locations, such as small offices and other light commercial location
AC4 can be installed in higher traffic commercial areas such as boutiques, busier offices, and restaurant
AC5 is more durable still and can withstand the traffic of heavier commercial areas such as department stores and public buildings.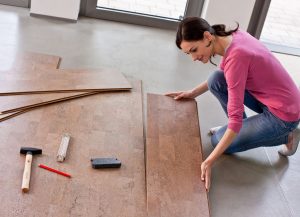 Knowing this, you can use just about any king of laminate flooring on a concrete basement floor. Laminate flooring is an extremely versatile flooring product and can be installed in virtually any room of your home, above or below ground. Just make sure that the job gets done right.