After suffering months and years of commuter travel which eats into your life at both ends of the day, it's maybe easier if you can work from home and save yourself the expenses and stress, let alone your damage to the carbon footprint.
Working from home does present a number of obvious difficulties. If other people live in your home during the day and young children are allowed to play wherever they want, you will probably be worried that you might not be as productive as you would like to be.
The answer to this problem could be to add a log cabin summerhouse in your garden so you can be taken away from your home and all its distractions, like daytime television, and work quietly and efficiently making good use of fresh air and the lack of car fumes.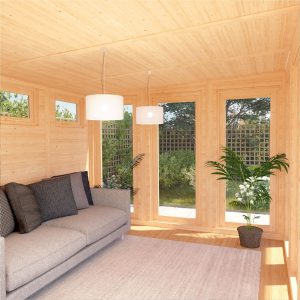 There are many cheap summerhouses on the market as well as many available in the good quality build bracket. If your company isn't providing any finance towards your perfect home office, then the budget for your choice of summerhouse will be down to you, but a great log cabin summerhouse can be used for many purposes apart from a Home Office and can add substantial value and purchaser attraction in the future.
Choosing where to sit in your new log cabin summerhouse might be decided after a trial and error period because you won't want to be distracted by watching the butterflies and birds spending the day in your garden you won't want to be in full sunlight when it does show.
Decorating your home office space will make it feel like home with a balance of using the area as a home office summerhouse. Because it is your work area you will be able to paint in any colour scheme that suits you because you're the only one that will need to look at it.
The only exception to this rule is to consider the value of painting full-size rainbows across your walls, when your managing director comes to visit to check that you are working properly.
Unless you are going to operate everything wirelessly from your home, which would include your telephone, your computer and your printer, you will need a supply of electricity to at least manage your lighting in your home office.
Adding a log cabin summerhouse to your garden gives you the opportunity to add solar panels to the roof to provide all of your electrical needs in your home office.
Choosing a summerhouse to relocate to your home office will add hours to your day which might mean you can be more productive in your work, which might mean more money from your company or you might choose to reallocate those hours to your family so you can spend more time together.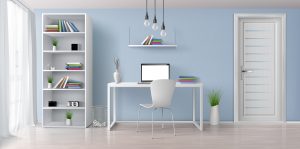 You should also think ahead of the times when you won't need to use your log cabin summerhouse as a home office, so buy a summerhouse that is big enough to cope with any of your future thoughts.
If you maintain your log cabin summerhouse correctly, it will give you years of good use. If you keep it clean and tidy and office like and keep sufficient supplies in your office so that you don't have to keep visiting your house for coffee or reality game-shows, your work ethics can only get better.