What is the Cost of Home Remodeling? It is important to figure out the cost of home remodeling before you decide to start tearing down walls. You should run the numbers of your home additions cost to decide whether your project is a smart investment. These numbers should include how much money you have on hand to pay the cost of home renovations, what you can afford to finance, any tax benefits, the cost of a reputable remodeling contractor and the materials you plan to use. Before you decide to carry out your remodel plans, you should ask yourself a few questions: Would it possibly be cheaper to buy a new house than carry out your remodeling plan? Will your remodel increase the value of your home?
A "home improvement" project, such as painting the walls or installing new carpet might make your house look more attractive, but won't really do anything for the value of your home. On the other hand, adding a room or rooms or adding a second floor, DOES affect the value of your home. How is the market value of homes in your area? Are they holding up? Great. You don't want to sink money in a money pit, even if you love your home. If you aren't going to see a return on your remodeling investment, think long and hard about remodeling. If however, your house's value is holding up, remodeling your home might be a great idea to increase the value and have a nice, renovated home to live in. Bathroom and kitchen remodels are especially effective at raising the value of your home.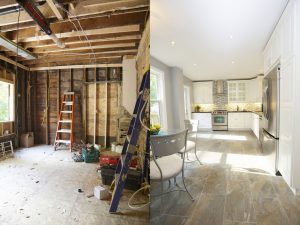 A bathroom or kitchen remodel cost can be higher than remodeling your living room because of the plumbing and fixtures involved in those rooms. When figuring your kitchen remodeling costs, you will need to decide on the quality of fixtures you are going to use. Cost of Home Remodeling Start with a budget. Know what you can afford to spend, then figure out what you will do with the money. You can create a budget worksheet to help you figure this out. Possible things you might want to include in your remodeling costs of home additions worksheet: any new real estate you need to purchase, your foundation, framing, roofing, doors, windows, plumbing, electrical, HVAC, insulation, exterior treatments, walls, painting, ceilings, kitchen and bath fixtures, laundry, lighting, garage, deck, patio and so on. There are many estimators to help you estimate cost of home additions available online. Try several and see which one is easiest to work with and the most accurate in your estimation. Most of them will allow you to enter your home zip code to pull local numbers.
If you are going to need to finance some or all of your remodel, you must protect and build your credit score and understand financing. This is a topic too large to go over here, but it is very important. Well, there it is. Now you know that you should do your homework to see if the cost of home remodeling will increase the value of your home. If it will, then go to the next step and use a cost of home remodeling calculator to find out what your plans might cost in your area. If you are planning a remodel in the mountains around the Big Bear, CA area, we can help you figure out your remodeling costs. We have years of experience and many of our customers are very glad we helped them come up with an accurate estimate. We can help you too. Click here to return Home from "Cost of Home Remodeling"